Coronavirus
Coronavirus updates (June 8-June 14): Coronavirus effects on private markets
June 12, 2020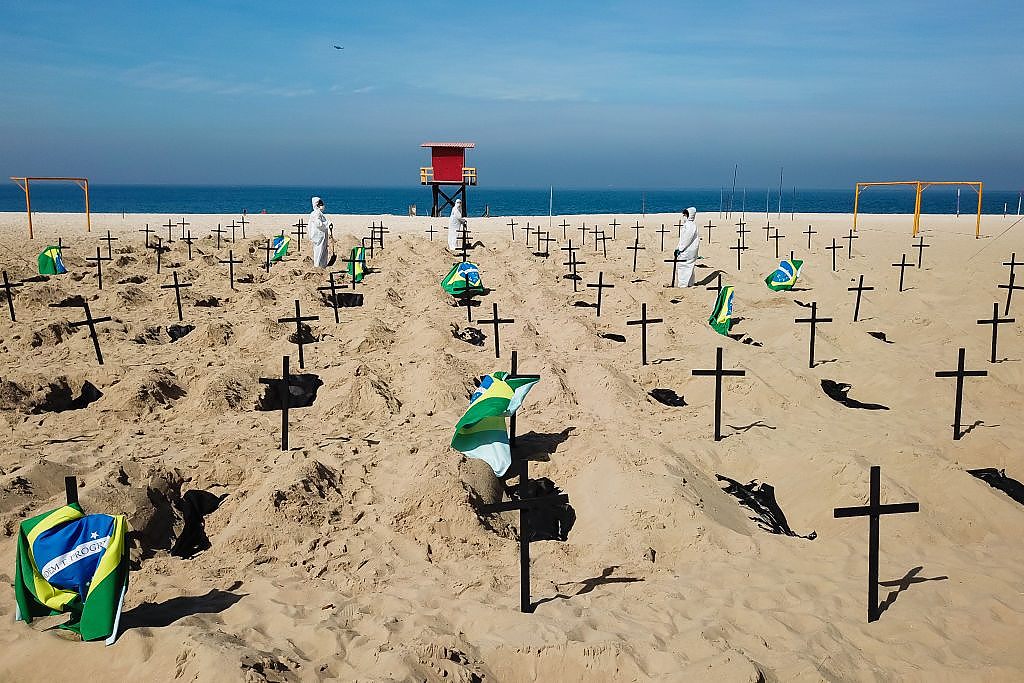 PitchBook is providing ongoing coverage of the coronavirus outbreak and its effects across the private markets and the economy.
Latest news on the coronavirus
In case you missed it:
Instacart valuation rockets to $13.7B with new funding
Grocery delivery provider
Instacart
has raised $225 million at a $13.7 billion valuation—a jump from its $7.9 billion value in late 2018. DST Global and General Catalyst led the funding round.
Instacart has experienced "an unprecedented surge in customer demand" during the coronavirus outbreak, the company said in a statement. As a result, it has doubled the number of shoppers—Instacart's term for freelance workers who fulfill customer orders—to more than half a million in North America.
Rival grocery delivery services, such as those offered by
Walmart
and
Amazon
, have also hired thousands of workers to meet new demand. But Instacart has surged ahead in recent months, claiming more than half of the US weekly market share of grocery delivery, according to Second Measure data reported by The Information.
The rapid expansion amid a pandemic has led to resistance from gig workers, who have listed demands such as hazard pay and safety gear. Before a strike by workers in late March, the company announced temporary bonuses and extended its sick pay policy for workers diagnosed with COVID-19, among other changes.
—James Thorne, 1:33 p.m. PDT
Pandemic speeds up digital transformation in construction
As lockdowns ease around the US, the construction industry is among those cleared to resume work, yet in an environment fundamentally changed by the coronavirus outbreak.
"The current pandemic has been an accelerator in moving the construction industry through digital transformation faster than most had planned," said Darren Bechtel of
Brick & Mortar Ventures
.
For the first time, startups are being approached by construction companies to solve issues arising as work in the industry resumes under new restrictions.
Construction tech startups are responding quickly
by modifying existing tools that can help monitor compliance with social distancing and other rules.
—Priyamvada Mathur, 1:25 p.m. PDT
Just Eat Takeaway to buy Grubhub for $7.3B
Europe's
Just Eat Takeaway.com
has agreed to buy
Grubhub
in an all-stock transaction worth about $7.3 billion, a move the companies say will create the world's largest online food-delivery company outside of China in terms of revenue. The deal values Grubhub's shares at $75.15 apiece, a 27% premium to their Wednesday close. The combined entity will be headquartered in both Amsterdam and Chicago.
The massive tie-up comes as social distancing restrictions across the world begin to ease, a shift that will test whether an increase in the use of food-delivery apps during the pandemic will persist. It also comes less than two months after Just Eat and Takeaway.com won UK regulatory approval for a merger of the two companies reportedly worth £6.2 billion (about $7.9 billion at today's conversion rate).
Reports had surfaced last month that
Uber
was in pursuit of Grubhub, leading to antitrust concerns because of the two companies' relative dominance of the US market. Now, regulators will instead have a different deal to assess.
—Eliza Haverstock, 12:12 p.m. PDT, June 11
Coronavirus effects on startups
Coronavirus test developer banks $100M
Cue Health
has raised a $100 million Series C from
Decheng Capital
,
Foresite Capital
,
Madrone Capital Partners
,
Johnson & Johnson Innovation
and
Acme Capital
. The San Diego-based healthtech startup makes molecular diagnostic tests, including one for COVID-19 that's currently under review by the Food and Drug Administration. Cue Health was valued at $95 million after a $45 million funding in 2018, according to PitchBook data.
—James Thorne, 11:56 a.m. PDT, June 11
Moral marketing: Startups offer free services to the unemployed
In just three months, the pandemic has left roughly 13% of Americans unemployed. Most are now without steady income and health insurance, and compounding their worries is the threat of a spreading virus.
With these factors in mind, meditation app
Headspace
began offering in mid-May a free yearlong subscription to its mindfulness content—which usually costs about $70—to unemployed people.
A handful of other startups
have extended similar offers to those without work
. Although the leaders of these companies say the actions were prompted by a sense of moral duty, experts say it's also a smart long-term marketing decision.
—Eliza Haverstock, 12:37 p.m. PDT, June 8
Coronavirus effects on venture capital
Virtual IPO roadshows could become the new post-crisis standard
Social distancing measures amid the COVID-19 crisis have forced IPO roadshows online—and some believe they could remain there even after worries about the coronavirus begin to fade.
Entirely virtual roadshows may not become commonplace for all companies. But recent trailblazers such as Vroom and JDE Peet's have shown that roadshows conducted via the internet
can still lead to successful listings
—and more companies are following suit this week.
—Leah Hodgson, 1:25 p.m. PDT, June 10
Coronavirus effects on private equity
Simon calls off $3.6B purchase of Taubman
Simon Property Group
has terminated its agreement to acquire rival
Taubman
, citing the pandemic and a breach of obligations. The $3.6 billion deal was originally signed in February. Based in Indianapolis, Simon invests in shopping, dining, entertainment and mixed-used real estate in North America, Asia and Europe, while Michigan-based Taubman manages outlet shopping centers throughout the US and Asia.
—Eliza Haverstock, 11:52 a.m. PDT, June 11
Sycamore eyes J.C. Penney in latest retail bid
Sycamore Partners
is in negotiations with
J.C. Penney
about a deal to acquire the ailing retailer out of bankruptcy, Reuters reported late last week, signaling the potential next move for a firm that remains dedicated to investing in brick-and-mortar retail despite the sector's ongoing struggles.
Sycamore's current portfolio includes names such as
Staples
,
Belk
and
Hot Topic
. In recent years, the firm has also owned multiple retailers that lapsed into bankruptcy, including Nine West and
Aéropostale
. Last month, Sycamore walked away from a deal to buy 55% of Victoria's Secret for $525 million, citing changes brought on by the coronavirus pandemic.
Texas-based J.C. Penney filed for Chapter 11 protection last month, weighed down by some $5 billion in debt. Two of the company's landlords, Brookfield Asset Management and Simon Property Group, could team with Sycamore on a joint bid for the business, according to Reuters.
—Adam Lewis, 12:48 p.m. PDT, June 9
Providence Equity injects $50M into theater group
Providence Equity Partners
is investing an additional $50 million in
Ambassador Theatre Group
as the company struggles with the impact of the coronavirus pandemic, according to Sky News. The group controls several historic venues throughout the UK, including the Lyceum and Savoy theaters in London's West End district. Providence Equity acquired the company in 2013 for £350 million (about $443 million today).
—Andrew Woodman, 12:30 p.m. PDT, June 8
Did you miss any of our continuing coverage of COVID-19? Find our previous updates below: